Episode 1: Doris
I had been wanting a Ute for years and had recently established an equity loan with the bank (what a nightmare!) so I bit the bullet and decided to
get a Ute. I had also wanted a four wheel drive for many years and it had
been my dream to own a Land Rover for as long as I can remember.
I began by researching 4wd's on the net and was originally looking at
LandCruisers and Patrols in my price range (ie up to $15,000). One day I
came across an internet ad for a Defender Ute, $15,000. Sounded good but it was in Bundaberg. Never mind it's only 3 1/2 hours or so away – so I jumped on the tilt-train at the last minute and headed to Bundy.
When I test drove the Landy I kept turning on the wipers instead of
indicating (amateur mistake, but I still do it sometimes after driving the
Falcon!) and I LOVED it ! The missus had a drive and I expected her not to like it, but I was wrong. So before she had a chance to change her mind, I agreed to buy it.
An RACQ report, another trip back to Bundy, and a lighter wallet later….
it was MINE ! Oh Happy Day….
Drove it home from Bundy and couldn't stop smiling !
What is it exactly? A 1993 Land Rover Defender 110 (200 Tdi) – Trayback Ute.
As any Landy owner knows, there's always something to tinker with or add so I have added:
– CD player (It didn't even have a radio, nor provision for one, when I
bought it)
– GME UHF
– Fire Extinguisher
– Recovery Gear (Snatch strap, shackles, long handled shovel, bow saw)
– ARB Winch Bar (No, I can't afford a winch yet but the price difference was only $50)
Wish list:
– Lightforce spotlights
– New 6.5 or 7 inch rims with BFG AT or MT Tyres.
(I have since added 7″ Disco rims, and BFG Muds)
– Canvas top for tray
– (Ideally) A new Td5 110 in a dual cab ute format. (Sway bars suck – who needs 'em ! )
Problems so far:
One day while idling there was a sudden and continuing loud clunking noise
– a bad expensive sounding noise, like big end damage. I was sh**ing
myself…. So I stopped it and had it towed to MR Automotive. The mechanic said "Hmm, sounds like big end damage..expensive). I was still sh**ing myself. Anyway, it turned out that one of the rocker arms had broken (yeah, I know!) But how it made that noise… ?!.
and hopefully I won't have any more problems with it…… touch wood.
I've taken it off road several times in the months that I've owned it –
anytime that work and other commitments allow and it's great. (now that I've owned it for years it's been off road a lot, and I'm still thrilled with it !) I wouldn't swap it for anything (except perhaps another Landy)
Out & About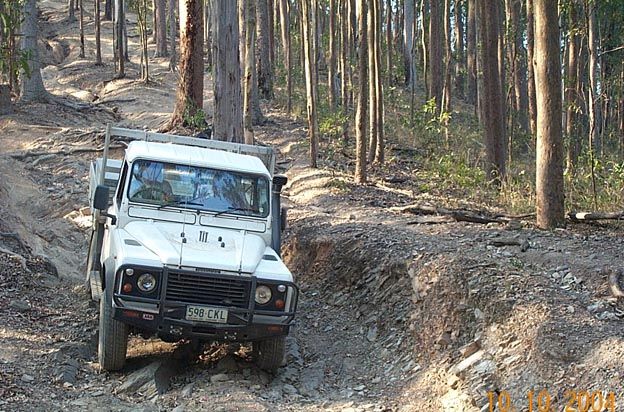 P.S. After I bought it a mate retouched a photo with the number plate "DORIS"  which I stupidly posted on www.aulro.com  This was NOT my Landy's name. It's just my idiot mate's dinosaur joke. He has a Toyota…….. Corolla. Anyhow the aulro blokes wouldn't let it go, so she's known as DORIS for all eternity now !  That's the idiot mate, there in the red shirt in that earlier photo…..